You are here: Help » Database Basics » Project View
Project View
The project view page summarises information on the project. As previously described, the database is designed to allow the user to go as deep into the project as they wish, using the breadcrumb menu.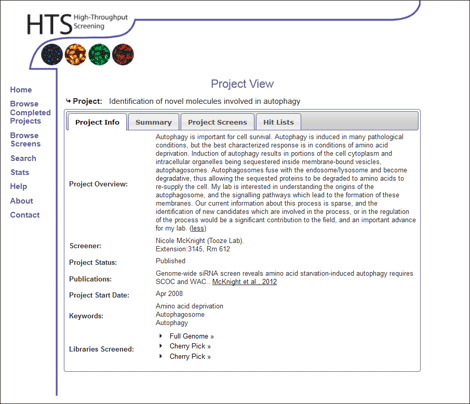 Figure 1 - Project View
Summary
The project Summary tab provides a simplified flow chart of the project. For more information on individual screen assays, view assay information in the Screen View page, linked to using the Project Screens tab.
Project Screens
The Project Screens tab provides a list of the screens associated with the project, providing links to the Screen View page.
Hit Lists
The Hit Lists tab indicates which type of hit lists are available for each project. The following types of hit list can be generated:
Hits from Pilot or Primary Screen - hit lists can be generated based on a dataset of choice and user defined thresholds.
Repeated Hits - if the project contains secondary screens based on hits identified within the primary screens, there will be an option to identify which hits repeated
Hit Overlap - if the project contains one or more screens that are directly comparable, there will be an option to view the hit overlap
Deconvoluted Hits - if the project contains a deconvolution screen it will be possible to view deconvolution results and compare them to the primary screen information.
Hit list generation is described here.