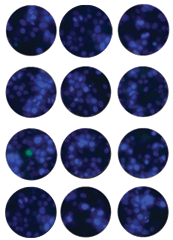 Welcome to the High-Throughput Screening Facility homepage.
Please note the new URL http://hts.crick.ac.uk.
From April 2016 we will no longer use http://hts.cancerresearchuk.org.
Our aim is to provide a high-quality service capable of performing large- and small-scale screening projects using a wide range of assay techniques and addressing a diversity of biological questions reflecting the range of activities of laboratories within the Crick.
Within this site you will find more information about who we are and what we currently do. The site also contains information on siRNA collections within individual labs that are available for sharing and discounts on siRNA purchases from a number of different suppliers.
For any web-related issues please contact Becky Saunders.